Panzanella is a Tuscan salad usually made with bread and tomatoes. This recipe replaced the tomatoes with various mushrooms which really gave the Rib Eye steak a dose of umami which balanced the dining experience. This recipe for Summer Mushroom Panzanella pairs perfectly with the Rib Eye Steak with Miso Red Wine Marinade recipe I posted earlier.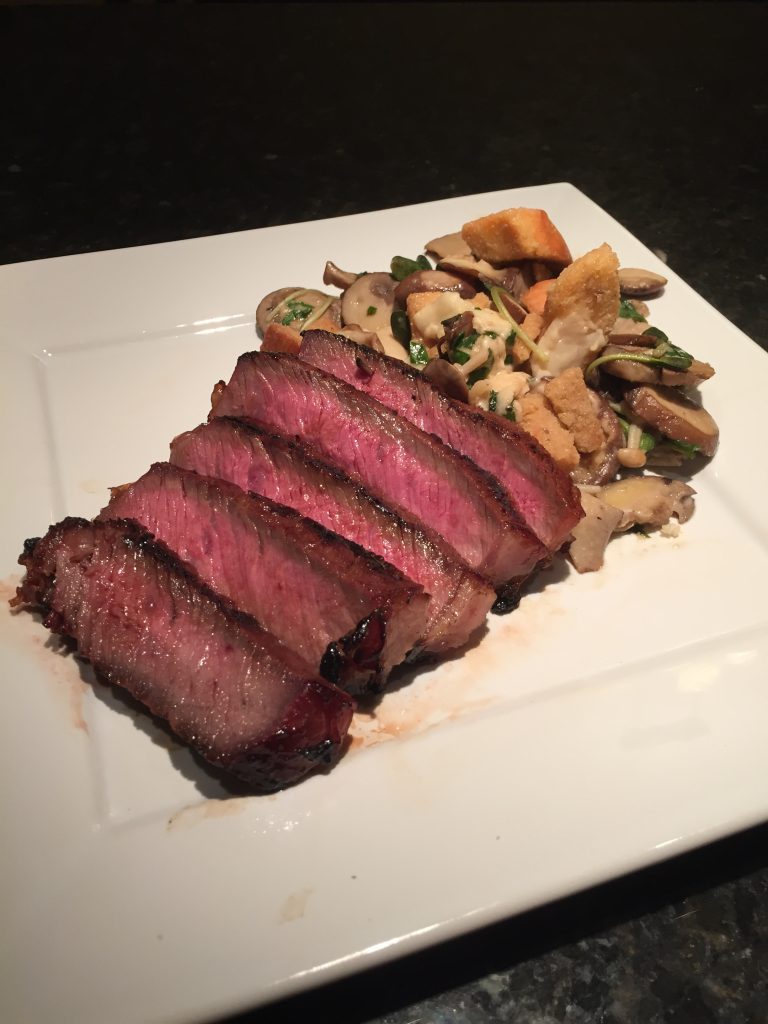 Summer Mushroom Panzanella
The side dish served with the Rib Eye Steak with Miso-Red Wine Marinade.
Ingredients
1.5 pounds mixed mushrooms, such as button and shiitake, cleaned with stems removed
1 pound mixed mushrooms, such as eryngi (trumpet), enoki or honshimeji
1 clove garlic, minced
2 tablespoons freshly squeezed lemon juice
2 tablespoons roughly chopped flat-leaf parsley
2 tablespoons roughly chopped celery leaves (endive may be substituted)
¼ cup microgreens
1 cup freshly grated Parmigiano-Reggiano
2 cups garlic croutons
Olive oil
Salt and pepper
Instructions
Preheat the oven to 450° F.
In a large bowl, toss the mushrooms with olive oil and season with salt.
Place the mushrooms in a roasting pan and cook in the oven until the mushrooms are caramelized, around 20 minutes.
In a large mixing bowl, toss the roasted mushrooms with the garlic, lemon juice, parsley, celery leaves, microgreens, cheese and croutons.
Add oil and season with salt and pepper to taste.