We are getting ready to head west for family vacation. As a result, I wanted to sneak in one more post before taking a week off from blogging. Tonight we decided to make an Asian inspired light and delicious stir fry. This dish was indeed all of those and more!  Grab a glass of Pinot Gris, sit back, and enjoy this post for Big Green Egg Ginger Garlic Shrimp Stir Fry!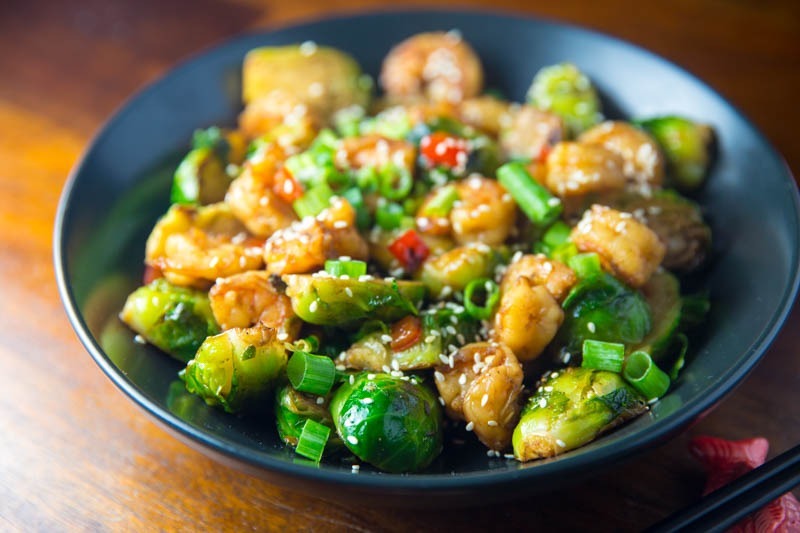 Big Green Egg Ginger Garlic Shrimp Stir Fry
Gather the ingredients for the marinade: vinegar, honey, ginger, chili garlic sauce, soy sauce, and shrimp. Mince the ginger, peel/devein the shrimp, and place in a bowl.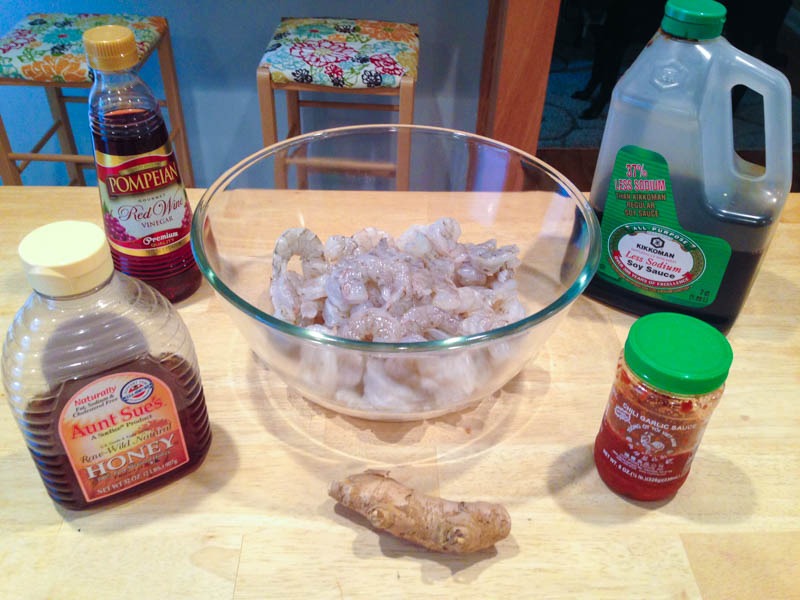 Mix well and then cover allowing the shrimp to marinate for 3 hours.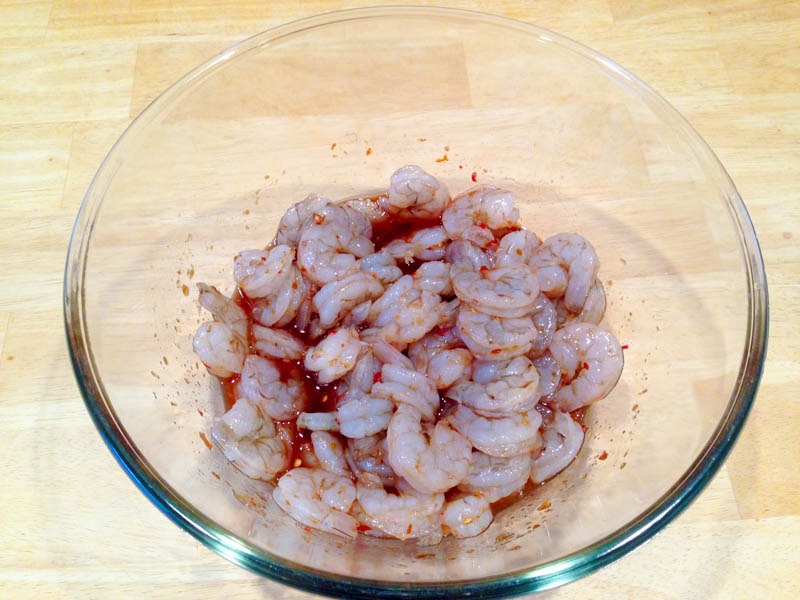 After 3 hours cut and blanch the Brussels Sprouts, slice the garlic, chop the onions, chop the peppers, and measure the liquid ingredients in prep for the Stir Fry.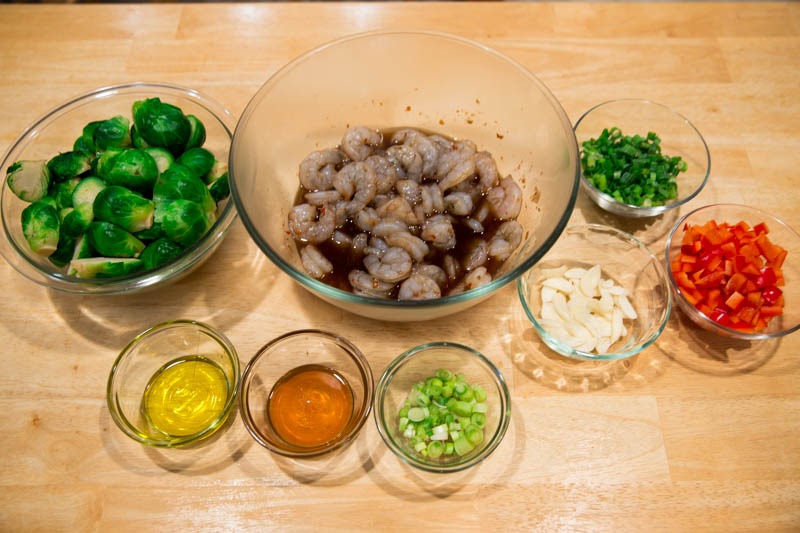 Preheat the BGE to 500° and place the Lodge Cast Iron Wok on the grilling surface.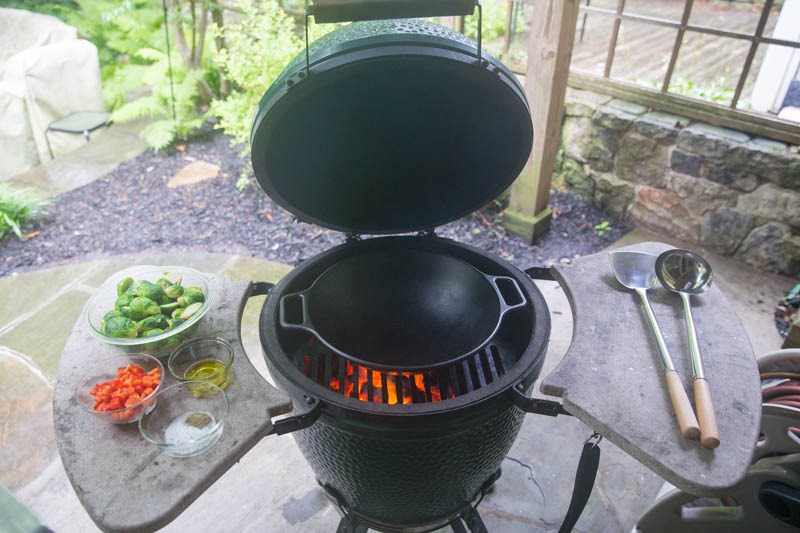 Add the oil, peppers, and Brussels Sprouts. Season with Salt & Pepper and Stir Fry until golden brown.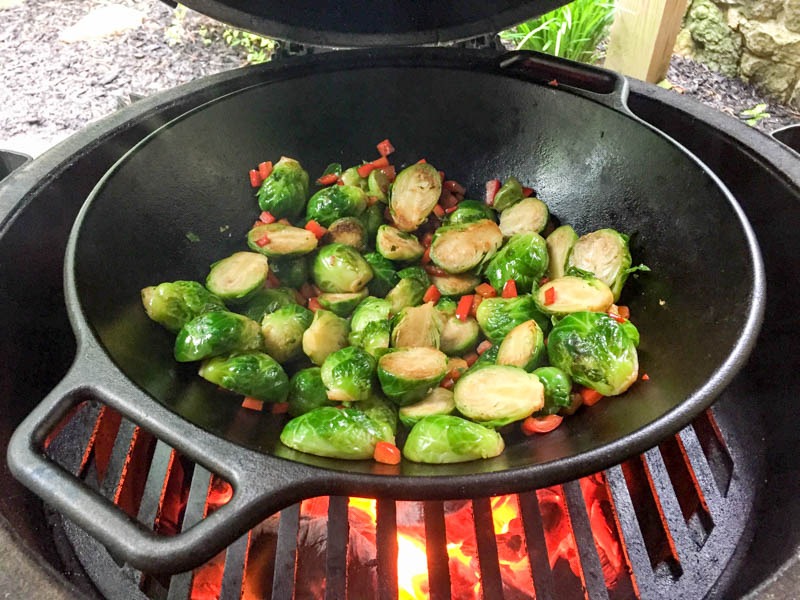 Pull the ingredients from the Wok and place in a serving bowl. Drizzle the honey and mix through.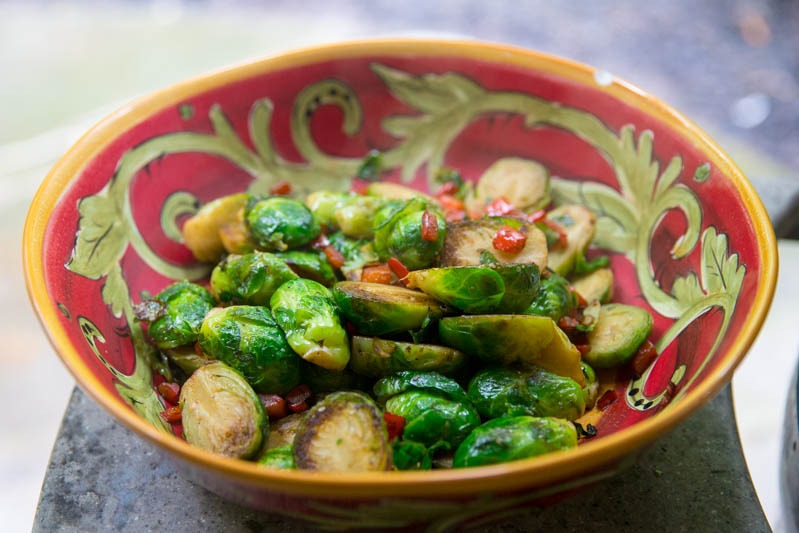 Place oil and sliced garlic in the Wok. Heat until fragrant.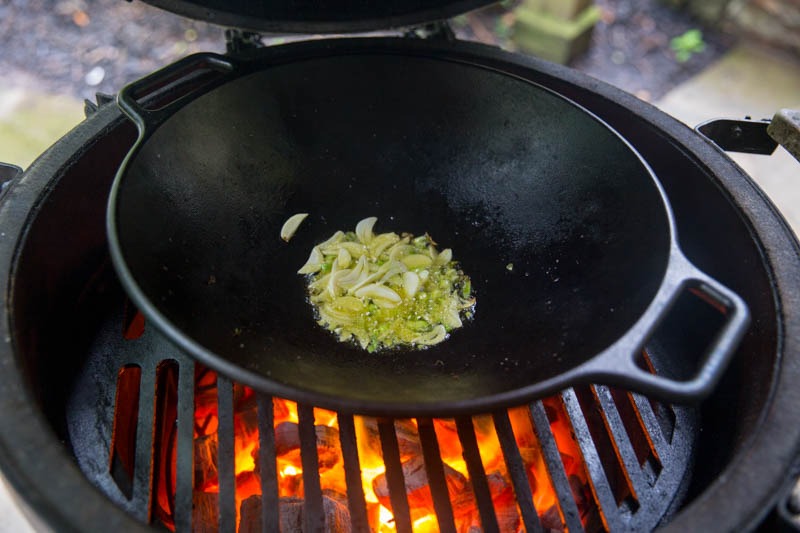 Add the shrimp and stir fry until curled and pink (about 5 minutes).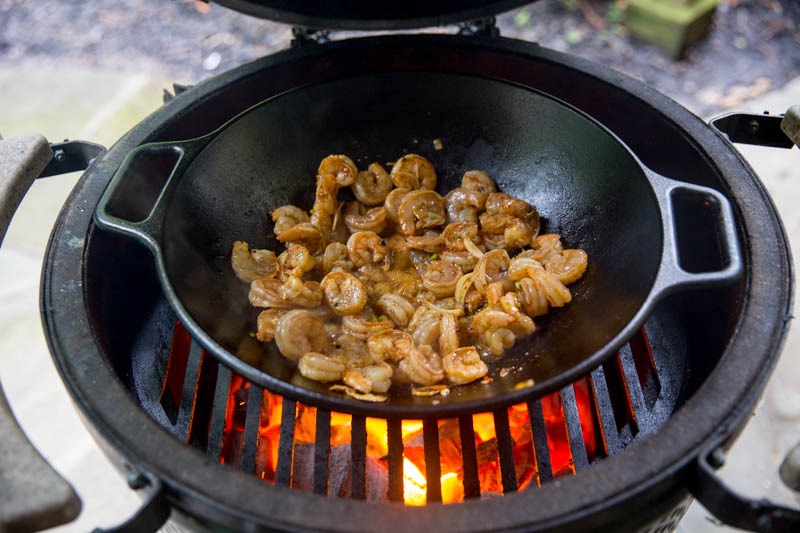 Serve over the Honey Glazed Brussels Sprouts and enjoy!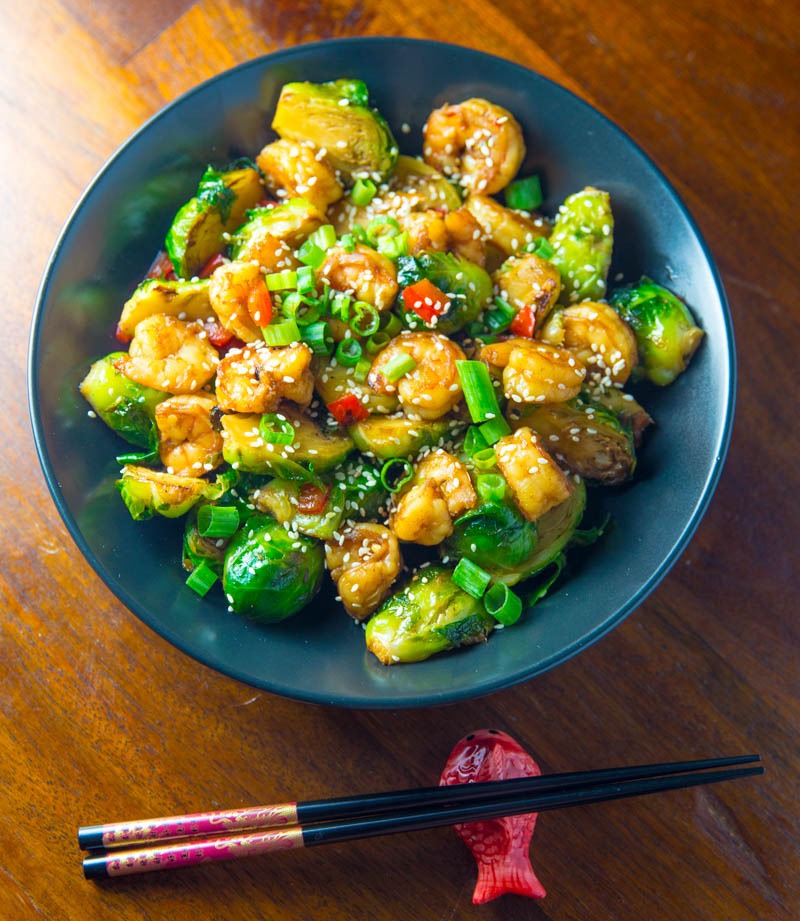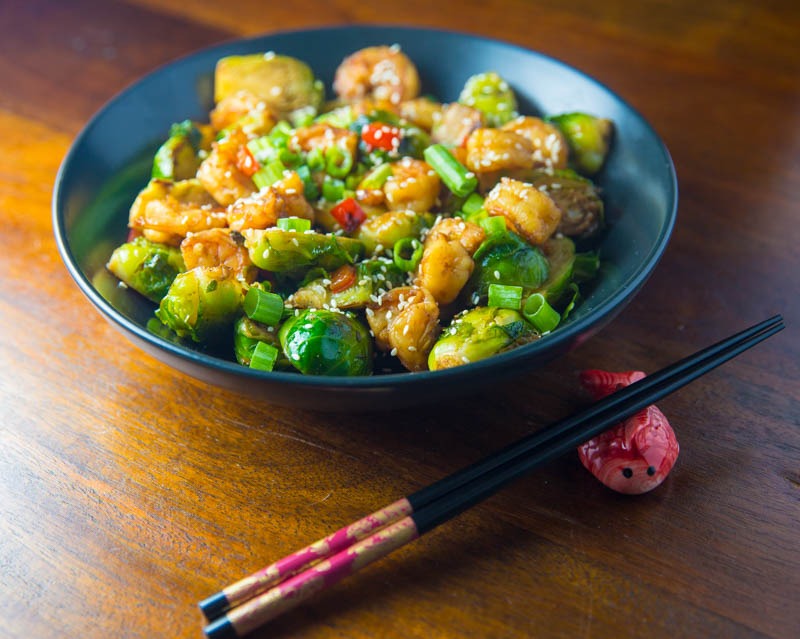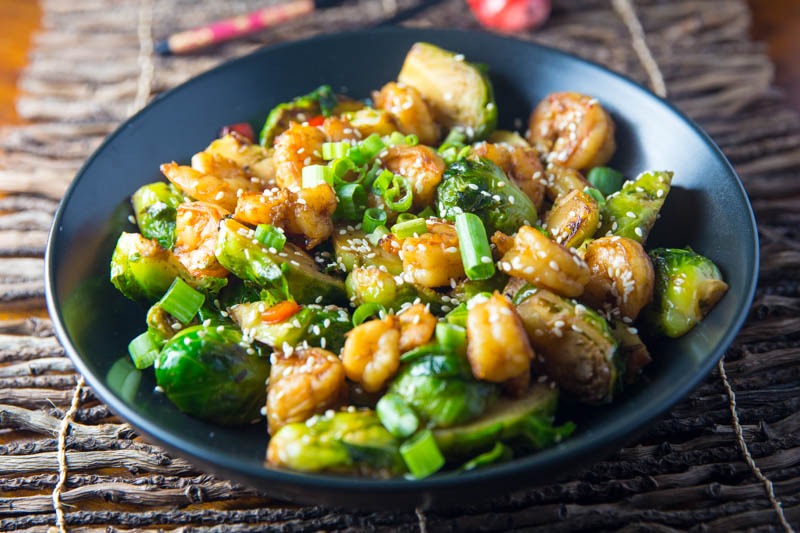 Big Green Egg Ginger Garlic Shrimp Stir Fry
This Asian inspired stir fry is both light and delicious. Big Green Egg Ginger Garlic Shrimp Stir Fry over Honey Glazed Brussels Sprouts is a winning combination.
Ingredients
3 Tbsp. honey
1 Tbsp. rice wine vinegar
1 Tbsp. soy sauce
1 Tbsp. garlic chili sauce
2 tsp. freshly grated ginger
1 pound large shrimp, peeled and deveined
2 Tbsp. olive oil
1 pound brussels sprouts, blanched, trimmed, halved
1 red bell pepper, diced
salt and pepper
3 cloves garlic, thinly sliced
3 scallions, white and green parts separated and chopped
2 tsp. toasted sesame oil
Instructions
Mix together 2 Tbls honey, vinegar, soy sauce, garlic chili sauce, and ginger in a large bowl.
Add shrimp and mix to combine.
Cover the bowl and let marinate in the refrigerator for 3 hours.
Preheat the BGE to 500°
Add the Cast iron Wok
Heat 1 tablespoon olive oil in a wok an add Brussels sprouts and red bell pepper
Sauté for about 5-7 minutes stirring every now and again until the Brussels sprouts brown.
Pull them out and place in a serving bow then drizzle with honey, salt and pepper, and mix together.
Add remaining 1 tablespoon vegetable oil to Wok add garlic and scallion whites then cook for 30 seconds.
Remove the shrimp from the marinade and add to the Wok.
Stir Fry about 4 minutes until the shrimp curl and turn pink.
Add to the bowl, drizzle with sesame oil, top with scallion greens, and toss.
Serve immediately.